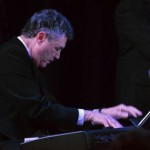 (Most of these gigs are in the San Francisco, San Jose & Monterey Bay Area)
Hi All.
It's June in bloom with beautiful flowers and I'm playing lots of excellent gigs in different locations.  It's a fun time for me.
Darryl Rowe

Featured Gig:  I'm loving playing the "Art of the Duo" concerts at Angelicas in Redwood City.  They have been a huge success.  Thank you to Sandra Marlowe, Tammi Brown, Cathy Segal-Garcia, Kay Kostopoulos, Mary Jenson, Daria and Azure McCall for playing great shows.
Our eighth presentation at Angelicas is Tuesday, July 3 and will feature the super-smooth voice of, Darryl Rowe.  I've known Darryl for many years since my days playing at the Garden City.   This will be a night of musical improvisation and creativity and FUN.  Hope you can come.  Tickets are FREE if ordered online at Angelicas website ($10 at the door).  Make your reservations early.
---
I totally enjoy playing the grand piano at the elegant Cetrella in Los Gatos most Fridays and Saturdays;  playing solo at Merrill Gardens; at the stately San Jose Country Club.  I'm playing a private function at the San Jose Country Club.  I'm playing solo at Dominican Oaks and Merrill Gardens.  I'm playing a private function with the smooth vocalist, Laurent Fourgo.  I also play for the Sundays  at at Westhope Presbyterian Church in Saratoga.  Come here often to check out newly added gigs.  (See the listings below for more information.)
We have updated and revamped the JazzSkills for Piano website. Check it out.  We are now offering a brand new introductory offer.
For you church pianists out there . . . . I just finished my new course, HymnSkills:  Developing Hymn Improvisation.