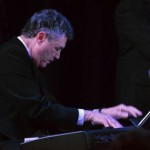 (Most of these gigs are in the San Francisco, San Jose & Monterey Bay Area)
Hi All.
It's August and it's fun in the sun and I'm playing lots of excellent gigs in different locations.  It's a great time for me.
Wendy Waller
Featured Gig:  I'm loving playing the "Art of the Duo" concerts at Angelicas in Redwood City.  They have been a huge success.  Thank you to Sandra Marlowe, Tammi Brown, Cathy Segal-Garcia, Kay Kostopoulos, Mary Jenson, Daria, Azure McCall, Darryl Rowe, Roberta Donnay and Molly Holm for playing great shows.
Our eleventh presentation at Angelicas is Wednesday, August 22 and will feature, exciting jazz vocalist, Wendy Waller.
Wendy Waller's unique and creative approach to melody and lyric embodies the vast rich landscape of American Music. Born into an artistic family of musicians, painters, and writers, Wendy spent her young years cultivating her multiple abilities, singing, acting and dancing in musical theater.
Wendy has fronted several successful bands, worked as a freelance singer, and contributed her talents to a number of projects, including Chris Isaak's "Speak of the Devil." Wendy performs at a wide variety of venues throughout the Bay Area.  She was also one of 10 finalists selected from over 10,000 entries worldwide for the Rising Star competition, which was part of British Music Week.
Wendy also teaches private voice to children and adults.  She is certified in three levels of Somatic Voicework™: the LoVetri Method and is certified as a level 1 Instructor by the Institute for Vocal Advancement.
Wendy has taught and assisted at U.C. Berkeley, San Jose State University, Foothill Junior College and the Community School of Music and Art in Mountain View, California. She teaches at two locations in the San Francisco Bay Area: Menlo Park, and Mountain View.
This will be a night of musical improvisation and creativity and FUN.  Hope you can come.  Tickets are FREE if ordered online at Angelicas website ($10 at the door).  Make your reservations early.
---
Big Kickin' Show at Angelicas featuring super singer, Darryl Rowe and the Angelicas All-Star Band.  I totally enjoy playing the grand piano at the elegant Cetrella in Los Gatos most Fridays and Saturdays;  playing solo at Merrill Gardens; at the stately San Jose Country Club.  I'm playing solo at Dominican Oaks and Merrill Gardens.  I'm playing a couple of private corporate gigs with Wally's Swing World at Spanish Bay.  I'm playing at the Capitola Esplanade Stage with vocalist, Ron Kaplan.   I also play for the Sundays  at at Westhope Presbyterian Church in Saratoga.  Come here often to check out newly added gigs.  (See the listings below for more information.)
Next Art of the Duo Angelicas shows:
August 25:  Darryl Rowe & Angelicas All-Star Band (Saturday Show)
September 5:  Ellen Johnson
September 19:  Deborah Winters
We have updated and revamped the JazzSkills for Piano website. Check it out.  We are now offering a brand new introductory offer.
For you church pianists out there . . . . I just finished my new course, HymnSkills:  Developing Hymn Improvisation.