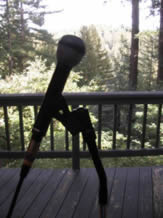 I want to remind vocalists that I can provide rehearsal and recording services. I have a beautiful Yamaha C7 and excellent recording equipment. It's quick and easy to record a demo or complete CD. CD artwork is also available.
I can also create Band in a Box charts and recordings which sound like a real band. You'll be amazed!!!  TURN OFF THE MUSIC AT THE TOP OF THIS PAGE.
The above is an audio file, "You'd be so nice to come home to". It has my live piano playing mixed with the BIAB file. The first and third chorus is a backup for the vocalist. The second chorus is a sax solo. BIAB can put the song into any key, style, soloing instrument, tempo, etc.
Call me at (408) 234-2364 for more information. Or, send an email to martan@musicmann.com.
"I love to back vocalists!"